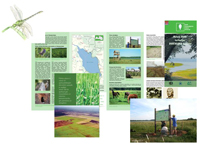 You will find here all the information materials, published within the LIFE-Nature project "Restoration of Floodplains". All the digital publications shown here are available also in printed version in the office of Latvian Fund for Nature. Booklets, brochures and information boards are for general public with wide access, but summaries of nature management plans are with limited edition only and devoted for stakeholders of certain territory. Write and we can send you by post the printed version.
Booklets about Natura 2000 sites
Brochures about ecology and nature conservation
Information boards in Natura 2000 sites
Summaries of Nature management plans of project sites
(After the name of Natura 2000 site the number of document ratification in Ministry of Environment is given followed by ratification date. Ranking is given ascending in ratification order.)
Handbook

Nature management handbook (11 MB)

Layman's Report

EU LIFE-Nature Project LIFE04NAT/LV/000198 "Restoration of Latvian floodplains for European Union priority species and habitats"